DB

Multiverse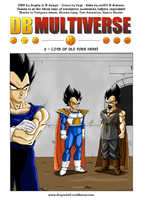 Part 2, Chapter 10.
PART TWO: LOTS OF OLD FOES HERE!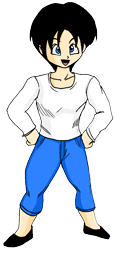 Chapter 10
Translated by MikeysBoner(certified god) and Kakarotto Ka Power Level Kya Hai?
"What a bore..."
Bra knew how to pass the time. She thought coming to an event like this could be fun... What a mistake. The first couple of battles were painfully boring. The public openly agreed, and the boos could be heard from every angle. It didn't help that the next match was slow to be announced. The organizers must have been talking amongst themselves... Lost in thought, Bra hardly noticed Pan trying to comfort her.
"When your brother or your father fight, it should be more interesting for you, right?"
"I don't know," simply replied the purple-haired girl.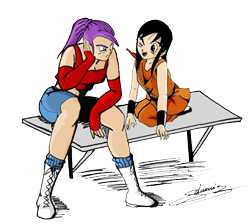 Bra had never really been close friends with Pan... In fact, they saw each other rarely; only on occasions such as this or at reunions at the Capsule Corporation... The had played together a lot at one point in their lives, but their interests soon diverged; one wanted to fight, and the other preferred fashion.
Because of this, Bra had always found Pan's behavior and way of thinking to be immature. She found that even their physical differences influenced their way of thought. Bra, only two years older than Pan, was rather large and well formed. Pan was the size of a ten year old child at the most (according to Bulma). Moreover, she treated the fact that she wasn't "flat" as an excuse that "fighting was not compatible with feminism." Also, when you look at her mother, Videl...
"Hey, are you listening to me?"
"Yeah, yeah, I'm listening, Pan," Bra replied. "I was just lost in thought."
"So you weren't listening!"
"Umm..."
Bra rose. It had been about twenty minutes since they started this uninteresting conversation. That was enough!
"I'm gonna have a look around... You coming?" Bra asked, more out of politeness than from an actual desire to accompanied by her junior.
"No way," replied the little girl as she jumped up from the bench. "The fighting could resume at any second. I'm gonna join my mom."
Rarely, Videl would visit and speak to the Briefs family. It was more like the two girls were forced to talk to each other rather than having a real conversation. It must be confessed that Videl and her daughter were much better at fighting than gossiping!
Luckily, Gohan returned with his brother and father. Videl came to find her husband, who stopped walking to wait for his other two family members to join the rest of the group.
"Same as thirty years ago," Gohan replied. "I'm not even sure I learned anything about it."
"But you're stronger than him, right?" Pan asked, who had just joined her parents.
"Of course, no worries there," reassured her father with a gentle pat on her head.
Nearby, Goku repeated the conversation with Cell word-for-word to Vegeta and Piccolo, while Goten left the area with Trunks.
"I think he's mocking us," said the Saiyan Prince as his rival finished, arms crossed.
"Indeed," Piccolo replied. "This is a tricky case, don't forget. Everything he says could be a lie."
"I would've liked to learn more about him," Goku complained.
"Is the presence of Broly not enough for you?" the Namekian remarked, arms also crossed.
"He may just remain frozen..." Vegeta replied with little belief in his claim.
"While on the subject," said Piccolo, ignoring the complains of his former enemy, "I want to go talk to the organizers about him. He worries me..."
"You think you can do something about it? You?" Vegeta replied, surprised, with slight disdain in his voice.
"We'll see."
Without another word, Piccolo flew over to the space of Universe 20, where some Vargas and Nameks were busily tending to the block of ice containing Broly.
Gohan approached his father and Vegeta without Pan or Videl, who were speaking to each other. (Pan was telling Videl about how she was going to win her first match).
"Where's Piccolo?" Goku's oldest son asked.
"Talking to the Vargas about Broly," His father answered by simply looking.
"Oh... So what do you think of these Vargas?" questioned Gohan.
"I still don't trust them," Vegeta said quickly.
I like them myself," Goku answered. "Because of them, we get to participate in this amazing tournament!"
"I don't like the gathering of so many monsters," Gohan asserted, agreeing with Vegeta for once. "The Vargas definitely had a bad idea."
"You're too paranoid, Gohan," said his father, pointing at him. "It's not like you at all. Is there really anyone here who could pose a threat to us? That Universe 16 seems to be identical to us... If something bad happens, I'm sure good will prevail."
"I hope," Gohan simply said, turning his head to Pan.
Goku put his hand on the shoulder of his son. "Don't worry about it. But you know, if you're so worried, you could always participate..." Goku tried once again to persuade his son.
"Oh please, just stop, Dad!"
"I'm joking, I'm joking!" Goku laughed as he took a few steps back. "Hey, where's Uub?"
Eyes seeking his pupil, the teacher found him jogging past the space of Universe 15...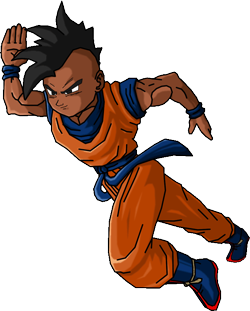 "Well... At least he's serious," Goku commented.
"Are you surprised?" Gohan asked. "He's your student."
"I must be a good teacher!" Goku joked. "Hmm... Universe 15. That's the universe of that "Icicle" person, right?"
"His name is I'K'L, Kakarotto. I'K'L," Vegeta sighed with a tinge of annoyance.
"But yes," Vegeta continued. "A new-born fighting in a tournament," he mocked, turning his head to look at space 15.
"This tournament just keeps getting stranger," said Gohan.
"He might just be incredibly strong at birth!" Goku hoped, jovial.
"Hmph, impossible!" Vegeta scoffed. "You know that even Broly was only 10,000 units at birth!"
"Oh," Goku said, slighty disappointed by his rival's remark. "You had never said it to us..."
"Want to go talk to him? Er... Her? I mean... It?" Gohan proposed.
"Can't hurt. " Goku replied.
"Alright, I'll go," said Gohan, turning to walk.
While Gohan left his space, he could hear Goku and Vegeta talking about what they would wish for if either of them won the tournament. He would have liked to hear their conversation a little more, but Videl stopped him to ask where he was going.
"I want to go talk to I'K'L. I mean, I'K'L's mother."
"Can I come with you?"
"Of course."
Together, Gohan and his wife walked toward the wall defining their area, where Trunks and Goten stood talking, pointing out the different universes and giving their own thoughts on each one.
"What are you guys up to?" Gohan asked as he jumped over the low wall.
"We're giving a prognosis," his brother replied. "Trying to rank all of the fighters."
Gohan was surprised that his brother even knew what "prognosis" meant. "So, what's your conclusion at the moment?" He asked as he politely helped his wife over the wall.
"Gotenks will kick ass, of course!" said the two young warriors together.
"What would you wish for, then?" Videl asked this time, still clinging to her husband's arm.
"Hmm. That's a good question," replied Trunks. "Goten, do you have any ideas?"
"Not really..." replied his best friend. "I haven't even thought about that..."
"We'll leave you here to think, then!"
Gohan and Videl continued their journey, leaving Trunks and Goten in thought like Vegeta and Goku.
"Shall we continue our grand tour?" Gohan's wife asked.
"Yes, of course."
Holding hands, Gohan and his wife slowly walked toward their destination. They discussed each universe they encountered along the way, starting with the 19th. They passed Uub along the way while crossing the space of Universe 2, of which all of its fighters were absent. Uub bowed without stopping, and the two lovers gave him a gesture of encouragement. Universes 3, 4, 5, 9, and 12 all seemed too empty...
Gohan gave his opinions on each universe he was familiar with. While passing Universe 14, they crossed paths with Bra, who looked as bored as ever and was walking in the opposite direction. They didn't say much to each other, but they all noticed the shy smile that Uub gave to Bra, who crossed them again while jogging.
After Uub passed them by, Videl noticed a smile on Bra's face, a smile that spoke volumes. Vegeta's daughter looked away and continued her journey. While Gohan and Videl finally arrived at space 15, Videl wondered if there was some sort of crush between Uub and Bra.
"They're young..." Gohan began. "Bra is pretty cute, it wouldn't surprise me."
"But Bra is more into fashion... and Uub is into fighting."
"Maybe she's into strong fighters? And I think it would be hard finding anyone stronger than him."
Squeezing her husband's arm a little harder, Videl snuggled against him. "That reminds me... Of twenty years ago..."
Gohan and Videl stopped just outside of Universe 15's space. While the mother of I'K'L looked at them, Gohan took Videl in his arms. Their eyes met, and seemed to commune... Finally, they brushed their lips together for a kiss; a kiss with the same fiery passion that has not changed for twenty years. After a few moments, when there seemed to be nothing else in the universe besides the two of them, Videl suddenly felt embarrassed. "She's staring at us..."
The lips of her husband left her so that he could turn his head and look. He turned his head and saw the woman of Universe 15.
"Hello!" Gohan said, raising his hand to greet her.
The woman did not respond or move, but her eyes hardened.
"Do you not know how to talk?" Gohan tried yet again to establish communication.
"Of course, I know how to talk!" the woman replied dryly.
She seemed very upset. "If my I'K'L was born," she went on, "then you would not want to talk to me! You would have realized the strength of my child and trembled!"
"Hm... A baby can't be that strong," Videl advanced with good reasoning.
"I cannot tolerate such nonsense from such a flat-chested lady," replied the woman.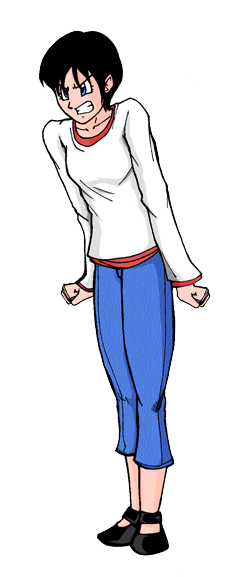 "Me, flat!?" Videl said furiously, arms stretched along her body, fists clenched, and head bent slightly forward. "At least my chest doesn't hang past my stomach!" She retorted.
"You know nothing of real beauty," the woman simply replied.
Videl attempted to cross over into her space, but Gohan quickly stopped her by grabbing her shoulder.
"No. Drop it, Videl."
"But, Gohan! I'm not gonna-"
"Who cares what she thinks?" Gohan cut. "It's just one person's opinion. She doesn't want to be friendly, and we have no right to look for problems with the other competitors... Let's just drop it and go."
"Yes... You're right," Videl replied, calming down.
"Too bad... Another universe we learned nothing from," Gohan pensively said as the two of them were halfway back to their space.
"I'm sorry, Gohan. I got carried away."
"Don't worry about," Gohan replied. "If you didn't say anything back I surely would have."
Videl blushed. "Oh, Gohan..."
They arrived back at their space together with Uub, who continued his warm-ups. Gohan and Videl saw that Vegeta and Goku were arguing over the best possible wish.
"A giant cream puff!" Goku shouted.
"A sports car!" Vegeta replied, sweating.
"Uh... My cream puff is way more creative than your car. I win!" Goku said with a sense of triumph.
Vegeta growled... Even if this game was stupid, he would just lose. It was good in a sense, it actually suited him. It would prove that he doesn't mind losing as much as his rival.
"What are you two arguing about?" Videl asked.
"Well, we talked about what we would wish for, and Vegeta told me my idea was stupid. I said no, that his idea was worse, and gave an example."
"He provoked me," Vegeta followed, "telling me that I would never find a wish worse than mine. But after some reflection, I think I've found a wish that's much more stupid!"
"I see..." said Gohan. "Isn't all of this a bit... childish?"
"Say that again!" Vegeta screamed, but with no real anger.
A presenter suddenly cried into the four microphones he held in his four arms. His voice echoed loudly. "The tournament continues, ladies and gentlemen! We now call Majin Buu of Universe 11 and Bujin of Universe 6 to the ring!"