DB

Multiverse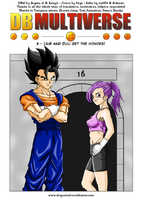 Part 3, Chapter 12.
PART THREE: UUB AND BUU GET THE HONORS!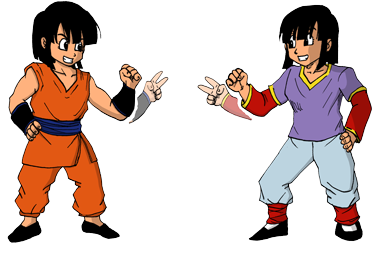 Chapter 12
Translated by Kakarotto Ka Power Level Kya Hai?
When Gohan saw Videl bored alone on this bench, he only thought of her. He didn't like the fact that he had been neglecting his wife to go and have fun, even if she was close by. This was partly because he had to cut his discussion with Trunks and #16 short. However, he still had so much to ask! But it was only a short delay, Gohan promised to return later with Pan.
Gohan reached the low wall that separated him from Videl and noticed that she had not taken her eyes off him since he left Universe 12. He effortlessly jumped of the wall and joined his wife, sitting next to her, wrapping his arm around her back.
"I saw an old friend. Trunks from the future. You know, against Cell..."
"Wait... what? What are you talking about?" Videl interrupted. "We spoke to him an hour ago..."
"Huh?"
"Ahem," another Gohan, standing to the left of the one sitting next to Videl, imitated a cough in order to be noticed.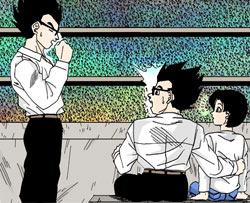 "Whaaaa!! I'm in the wrong space!" Gohan suddenly yelled, jumping up, blushing and embarrassed. He immediately apologized to his counterpart.
"I'm really sorry!"
"It's nothing... I guess," Gohan laughed. How could he possibly blame himself?
Universe 16's Videl found herself facing two perfectly identical Gohans. She blushed, embarrassed, too. Next to her, Videl thought she heard a faint voice.
"Hey Gohan, what are you doing there?"
Videl from Universe 18 had approached them. Even worse, she had traveled through Universe 17. Alone, without even flinching, she quietly walked past Cell, who tracked her movements with his eyes.
"Hi Mom!"
Pan appeared behind her mother along with Pan from Universe 18 (who appeared from a different direction). Fortunately, the two girls were dressed differently, so it was easy to distinguish between them, unlike the two Gohans and Videls.
"Hello, Pan," Videl said, remaining seated on the bench.
U18 Pan wanted to discuss with her mother from an alternate universe, but she immediately noticed that her counterpart was quickly approaching with a smile.
Although they were dressed differently, both Pans immediately recognized and approached each other joyfully. U16 Pan, dressed in canvas pants and two long-sleeved t-shirts, grabbed her U18 counterpart, and they embraced each other, laughing.
"That's so wierd!" said the two girls in unison.
"I never thought I'd actually see myself here!" rejoiced one of the two young girls.
"Me neither!" replied the other. "This deserves a souvenir photo!"
"Yeah! I thought so, too! Luckily, I brought my camera!"
"Me too! I'll go get it right now," said Universe 18's Pan.
"No, come with me," replied Universe 16's Pan. "We'll take mine; it's much closer."
Pan grabbed her counterpart's hand and took her inside to the Universe 16 alcove.
Her counterpart reacted immediately. "Oh, normally I'm not allowed to come here. Even if..."
"I don't think there'll be any problem," they concluded at the same time.
She laughed again and continued to walk down.
"Hold on, shh..." the Pan with the T-shirt suddenly whispered. "Grandpa's still asleep... Try not to wake him up."
"Grandpa came, too?" asked the student of U18 Goku, imagining that she was talking about Mr. Satan.
"Of course. He wouldn't have missed it for the world! Wait, this is my room. I'll be right back, okay?"
U16 Pan entered the room that she had designated as her one. For a minute, U18 Pan remained alone, looking for the eyes of Mr. Satan somwhere, but it was too dark. ... However, there was no more time to check. Her other self had left the room with a capsule in her hand.
"Let's go back outside!" she said, leading U18 Pan by grabbing her hand once again.
As they left, they noticed that the two versions of Trunks and Goten were talking. Beside them, the Gohans and Videls were discussing, while the two Piccolos, not far away, remained motionless.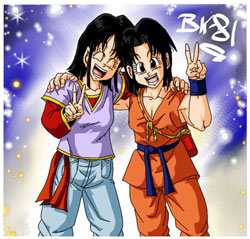 As U16 Pan activated the capsule, U18 Pan moved quickly to ask Piccolo a question.
"Are you not going to talk to your counterpart in my Universe, Mr. Piccolo?"
"I'm not really the type that likes to talk about myself... Anyway, I see you're wearing the Nyoï Bo. Who trained you?"
"Well, my grandpa did," Pan said proudly. "Son Goku!"
"Goku?" Piccolo was surprised. "Ah, I should have guessed... Well, then. Tell him I said hello, okay?" he finally said with a smile.
Pan was left motionless for a moment as she wondered what the Universe 16 Namek could have possibly meant, when suddenly, her alter-ego called. She was ready to take the photo.
Quickly returning a smile, the two Pans embraced each other arm in arm and took the pose. The little flying machine intelligently positioned itself in front of them, quickly managing its altitude and distance from the girls, before taking the shot under a light flash. Two copies came out of the slot. U16 Pan walked over to remove them and pressed the button on the machine to recapsule it and put it away. Universe 18's Pan walked close by again to take a copy of the photo. Both Pans were delighted to have this memory in their hands.
As the two girls excitedly discussed the photo, both Trunks's and Gotens were chatting nearby.
"So, did you..." began Universe 18's Goten.
"Subscribe Gotenks?" U16 Trunks finished, "Yes we did," he added smiling.
"It'd be fun if we were to meet in the tournament!" said U16 Goten, excitedly
"Yeah, but I wonder how it'd end!" U18 Trunks replied. "But I especially hope that the fusion doesn't fail. If it does, that would be horrible!"
"For sure," U16 Trunks added.
"Say, guys," began U16 Goten, "Trunks and I have a few little things we need to adjust. Is that okay?"
"Of course," said Universe 18's Trunks after glancing at his friend from his own universe. "I think we already know what we need to do," he added with another glance to his counterpart.
"We'll meet again, then," said U18 Goten, wrapping his arms over his counterpart's shoulders.
The two groups both separated. Both Trunks's headed immediately to Universe 12, where they hoped to discuss with their alternate self. They hoped to hear a lot, including about their mother.
U18 Goten, after watching his friend and his friend's double take off, asked his counterpart, "So... you wanna talk about... our girlfriends?"
"Absolutely!" the other grinned. "It's not every day that you can think about the same thing twice at the same time!"

Goku, Uub and Vegeta had decided to leave Universe 18's wing. The former Prince of Saiyans intended to visit his son in Universe 12 out of curiosity to see how Bulma was doing. But when he saw his 2 sons heading over to talk to the third, he changed his mind, only to follow Goku into Universe 16's wing. After all, there were still many mysteries to discover about these alternate universes.
When they arrived, they observed those present. They had noticed two Gotens, two Gohans, two Videls, Piccolo , two Pans and a girl who looked strikingly similar to Bra. At first glance the two Pans seemed similar, except for the clothing.
"We're all the same here, unless...?" Goku began, desperately trying to formulate a conclusion.
The two Gohans approached each other and U18 Gohan asked, "Why did the Vargas choose our two universes if they are identical?"
"There is a difference..." Universe 16 Gohan noticed Goku, watching him as if he had not seen him for twenty years. "And it's quite a large one..."
"I don't seem to be here," remarked Uub as he continued to search for a counterpart.
"Oh my! ... Grandpa!"
Universe 16's Pan suddenly abandoned her counterpart and jumped onto Goku grabbing his neck, tears in her eyes, but with the same cheerful smile. Uub, surprised, stepped back in the wake of the girl's spirit.
"At last I meet you!" Pan said as she wept on the neck of her grandfather. Meanwhile, Goku's pupil approached the gaze of the Saiyan.
"Ho, two Pans! That's so cute! Hmm...." Goku began to formulate a hypothesis.
"So, in your universe, would I be dead... again?" he wondered aloud, glancing towards the sky as he imagined the halo of an angel above his head.
Vegeta almost chuckled. On one hand, it amused him that his friend was still dead in the other Universe. Then again, where was he...? "Does that mean I'm dead too?!" he thought to himself, his smile fading at the
thought.
A calm, rough voice suddenly sounded through the doorway of the entrance to Space 16. ... A shadow and a single hand covered with a white glove, emerged first.
"Clearly, our two universes separated the moment I appeared..."
As he exited the shadow of the entrance, the warrior revealed himself.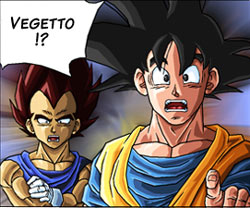 He was average height with a strong build. His black hair was raised up and a few strands fell over his forehead. He emitted an incomparable presence. The man was dressed in a blue tunic, under which lied an orange gi. On his ears were two visible earrings. He was a Saiyan... or rather, the fusion of two Saiyans. At his appearance, Vegeta and Goku were incredibly surprised.
"Vegetto!!" They shouted simultaneously, both fighters taking one step back under the effect of the surprise.