DB

Multiverse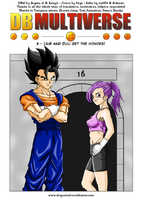 Part 3, Chapter 13.
PART THREE: UUB AND BUU GET THE HONORS!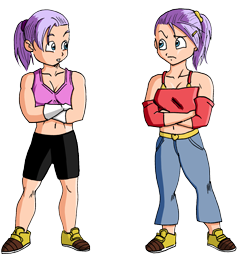 Chapter 13
Translated by Kakarotto Ka Power Level Kya Hai?
Goku and Vegeta stood still as the reflection of their old fusion, Vegetto, proceeded calmly. He had a stern look, but a friendly smile. He pulled up alongside Bra.
"So that's what makes us different then," thought Gohan.
Piccolo of Universe 16 thought that there were too many people in that space... he took advantage of everyone's attention on Vegetto to overshadow his disappearance.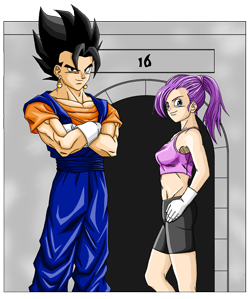 "How did you beat Majin Buu if you and Vegeta didn't fuse into me?" Vegetto asked Goku as Pan rested.
"Oh I see... Buu is locked within this boy," analyzed Vegetto after a quick glance at the young man in dark skin. "How did you do that?"
"Hm... Well, it's a bit complicated," Goku began.
"After we fused into becoming Vegetto, we were absorbed by Majin Buu," Vegeta said. "Once we dropped the energy shield, our bodies separated and I crushed the Potala earrings."
"So this is where our universes differed... I almost chose to do the same and drop the barrier. But, after some hesitation, I finally opted to keep it.
"Oh, that reminds me," said Goku suddenly. "We never knew why our bodies had separated."
A brief moment of silence settled. Everyone thought about it for a few seconds before Vegetto broke this moment.
He said to himself, "Had I known at the time, If I had let down the shield, I would have become Goku and Vegeta once more..."
He did not need to finish his sentence. He did not need to. Everyone understood what he was implying. Uub came forward and offered a solution. "There's a Majin Buu in Universe 11. Maybe you could ask him to–
"No," the fused Saiyan cut off Uub in the middle of his sentence. "Today, and as of twenty years ago, I am a whole person. I am Vegetto... Goku and Vegeta are dead.
"So I was finally right, somehow..." Goku said with a small smile.
"We could go and ask the Kaioshin of Universe 1 about our fission in Buu's body," Vegetto proposed. "But before that, how did that boy appear?" he asked, pointing at Uub.
"This is Uub, my student. He is the reincarnation of Majin Buu. I think King Enma fulfilled my wish after I defeated Majin Buu.
"King Enma? Tsss... He refused me this favor, especially because of you," said Vegetto in severe regard to Vegeta.
"Me?! I am part of you, so it's your fault too." retorted the Prince of Saiyans.
Vegetto smiled before asking Uub, "How strong are you?"
Uub was silent for a few seconds. "You'll see in my fights" he replied timidly, but also dryly and with respect. He had not appreciated the fact that Vegetto had cut him off earlier.
"I can't wait to see it! And otherwise, what have you done for the last twenty years?"
"We've been training!" responded Goku.
"To push the limits of the Saiyan body," Vegeta added. "And you?"
"I've been working around for the sake of... well, justice. What else?" Vegetto answered.
"Eat Chichi's good dishes," said Goku suddenly, remembering that Buu's battle against Bujin had made him hungry.
"Ah, yes!" Vegetto almost cried, losing all seriousness. "It makes me hungry already! I always loved her chicken!"
"Oh, really?" Goku asked, also losing all seriousness.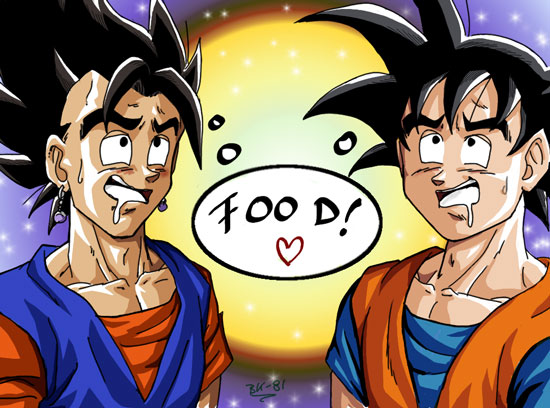 And for a few minutes, Vegetto and Goku faced off, drooling stupidly listing all of the dishes they loved most. But they tried to regain some semblance of seriousness when Videl asked shyly, "Excuse me, um... Mr. Vegetto, how do you deal with... um ... Bulma and Chichi?"
"Good question!" Vegetto snapped out of his trance as the whole Universe 18 waited for his answer. "It's still funny, I think you asked me the same thing twenty years ago," he said looking at the Videl of his universe, who acknowledged with a nod of his head. "Simply put, I haven't completely abandoned Chichi, but I'm in a relationship with Bulma... with whom I had a daughter named Bra."
A silence... Vegetto stared at Universe 18, but could not find what he sought. He then asked, "Tell me, Vegeta. Is it going well with Bulma?"
"Of course, you fool! What do you think?" Vegeta snapped.
"You don't have a second child?"
"I do, she's also named Bra"
"She didn't come? Wouldn't she be very strong?"
"Not as strong as she should be... it's her mother's fault. But yes she's here."
"Well I don't see her anywhere?"
Vegeta scanned the area for her too... with his eyes. Because in this arena, it was nearly impossible to properly sense or distinguish the auras unless they were nearby. "So where did she disappear off to?" Vegeta wondered.
"She was walking around, we walked past her earlier," specified Gohan of Universe 18.
"She's over there," pointed Uub... who turned a little red when everyone looked at him. But he stood his ground and stated, "She's talking to the girls in Universe 6."
"There's Bojack," Gohan said.
"I'll go. You never know what can happen in a place like this," offered Bra of Universe 16, who spoke for the first time before those of Universe 18, starting immediately.

As she passed by the Universe 6 wing, Universe 18's Bra could not help but notice the group of four girls dressed in old-fashioned and dated clothes. The fifth girl in Universe 6 was a red-head. Her and Bojack's sidekick, Bujin, was still unconscious at their feet. Bra decided to go see the group of four to discuss... After all, they were all girls, here... it was rare at to see them at tournaments like this and they could probably find similarities, even if their clothing tastes were not the best.
They were considered friendly at first, and the discussion started well. Bra couldn't remember all the names. ... There was this long-haired girl named Kat, and there was Syd. But who was this one already? Bra could no longer remember..
Anyway, they soon talked about fashion and the ideas between the two groups were very different. The tone rose slightly. A few friendly insults rang out, and some of the girls giggled, which annoyed the red-head Zangya elsewhere.
But it was not serious. After all, this type of "disputes" was common among girls. But in the context of the tournament, it could create problems.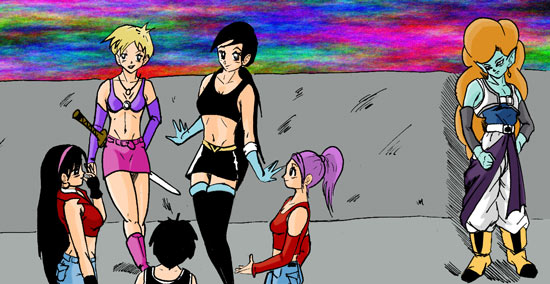 Fortunately, U16 Bra reached the Universe 6 wing. With her relatively more imposing stature (compared U18 Bra's), she calmed the enthusiasm of the other girls and almost ordered the other Bra to return to her space... Turning their backs to Universe 6, the two Bras started when U16 Bra suddenly heard Zangya whisper, "Good riddance". She turned and stared down the redhead and said, "You, you're no better than the others..."
Zangya almost freaked out and hit that "bitch" as her smile faded, but Bojack placed a hand on her shoulder, stopping her. Thus, the two Bras left Universe 6 smoothly. Walking side by side, U16 Bra asked, "So, did you learn anything interesting about them? Their power?"
"Not at all. I don't really care about such things."
"But you're... nothing," U16 Bra was forced to tell her counterpart.
"Don't tell me that, you're worse!" U18 Bra retorted. "You and your tomboy tank-top! You look like you're going to fight like a delinquent!"
"What about you?" said U16 Bra, stopping, almost shocked.
U18 Bra did not reply and continued to march back to Universe 18's wing... U16 Bra went on her way to her own Universe's wing passing many other Universes, including Universe 12, where she noticed her brother, Trunks and U18 Trunks discussing with U12 Trunks. As she passed, she allowed herself to listen.
"So, what are you doing in life," asked Trunks, carrying a sword on his back.
"I'm a CEO. I sit behind a desk," answered one of the two other Trunks's
"Sometimes I fire people," added the other. "I spend a lot of time looking at my secretary."
"Sometimes I pretend to read reports," said the second Trunks, turning his head. Both their lives did not seem very different.
The two Trunks's smiled, which confirmed that they were indeed identical. One of them said, "I often go on walks with the ladies in Accounting. There are so many pretty young girls who always greet me in the morning, saying, 'Good Mooooooooooooooooorning Mr. Briefs' and then giggling."
Future Trunks' eyes had widened as he listened to his two counterparts. They were completely different from him. He then made a list of his own activities:
"I help reconstruct the whole Earth. I give food to those who have lost everything. I try to make the world better, as before. There are villages that haven't any water or resources for years. #16 and I can easily travel quickly with capsules. Almost no planes have been flying recently, but we've been able to rebuild manufacturing plants at the same level as twenty years ago. It's been a few months since we've been able to mass-produce capsules. And finally, I work in the fields, often by hand, to help rebuild an effective crop market. The old Androids liked to burn crops and leave us at the brink of starvation.
This time, it was U16 and U18 Trunks who were shocked. There was a great moment of awkward silence... Bra left without knowing how the Trunks's would restart their discussion. What made her feel safe was that the Trunks who wielded a sword seemed much more mature than her brother... U12 Trunks had told about his adventure and his maturity was undoubtedly because of his experiences...
The 12 announcers suddenly announced the next fight: Tidar of Universe 19 against Uub of Universe 18. Goku's student received some words of encouragement from Universe 16 and his master, and flew to the ring.
Universe 16's Bra returned to her space as Vegeta and Goku returned to their own. Unfortunately, the two parties did not cross paths. Bra found it a shame, as she wanted to talk to them a little, also. But she understood that they wanted to observe the fight of one of their own seriously.
As she jumped over the wall of Universe 16, Bra glanced at Universe 19. The famous Tidar was preparing to enter the scene...