DB

Multiverse
Hanasia, Queen of the Saiyans
Written by Salagir
Adapted by Caihlem, TheOverlyMadHatter, hiace50 and Adamantine
This story takes place on the Saiyans planet, 1000 years ago, way before they are the population killer who put fear in the whole galaxy, in the era of King Vegeta...
If you ever wondered how these so powerful people lived as a community, if you want to know what was the fate of Millennium Warriors before Broly, if the adventures of a frantic and emotional fighter in a world of bullies tempt you, enter the world of Hanasia's saga.
No release system is defined.

Part 1 :
1
2
3
Part 2 :
4
5
6
7
8
9
10
11
12
13
14
15
16
17
Part 3 :
18
19
20
21
22
23
24
25
26
27
28
29
30
31
32
33
34
35
36
37
38
39
40
41
42
43
44
45
Part 4 :
46
47
48
49
50
51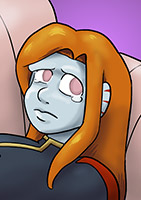 Part 4, Chapter 48.
The steps of mourning of the Tsufuls (when the deceased is ressucitated)
The address for Chiin-Lee's house is so complicated to write that we've decided it's not worth trying to translate it into English. So, at Chiin-Lee's place, somewhere in town, there was a mourning ambiance. The walls of the habitation, without waiting for a command from its owner, had automatically colored themselves deep purple as she entered. They had understood.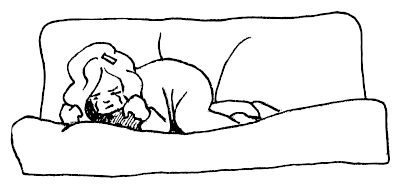 Chiin-Lee Rosids let herself fall to the sofa, as in every civilization throughout time, the sofa of the living room always replaces the bed during the day. She spent hours gazing at the roof. She didn't close her eyes because that brought up pictures of Hanasia's face. At some point, the living room started playing soft music. "No" she whispered, and it stopped. She preferred silence.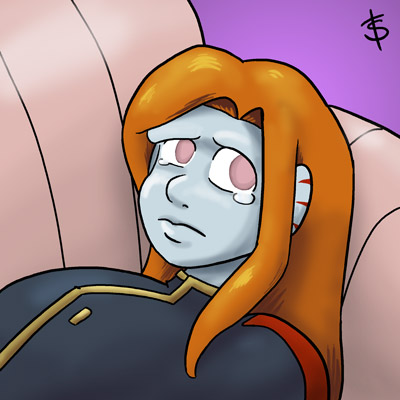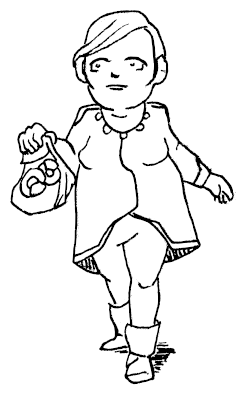 The door of her home opened, recognizing her friend Abricota who immediately entered. She threw a look at a machine inside, who, understanding the request, showed a silent arrow towards Chiin-Lee's position. It was in the room next door, and she was there shortly after, with a big smile, prepped to bring up the moral of her friend with all the energy she could muster.
But her friend was a true friend and immediately changed attitude when she saw Tchin's state. It wasn't just a passing by feeling of regret. Clearly, it wasn't the time to exasperate her friend and try and force happiness. Respecting her silence, Brie didn't say anything either, and sat on the sofa, next to Tchin, to provide huma- tsufulian warmth.
An infinite time passed in silence.
Chiin-Lee turned towards Abricota and said :
— I'm sorry, I'm wasting your time…
Her friend gave her a big smile and took her in her arms.
— That's what I'm here for! Oh dear Tchin, are you feeling better?
— Much better, thanks to you. Thank you. You can take them out.
Abricota let go of her embrace and opened her floating sack, taking out two huge "special depressed" pastries, delicacies filled with an efficient drug to boost morale: sugar.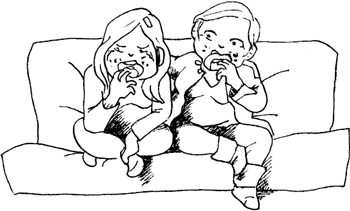 They ate them, then Brie started the conversation.
— So you quit, I was told.
— Yup.
— That was a quick decision, barely a few minutes after the battle, right?
— You should have been there… it was unbearable. Politics, politics… I couldn't stomach it. And I understood straight away that it wouldn't interest me again neither tomorrow or the day after, so… instead of taking the afternoon off, I took all the rest.
— There's at least thirty passion projects waiting for you anyway. Everyone wants to have the great Chiin-Lee Chinensis Sapindaceae Rosids, commander of the Saiyan army, counselor of the Warrior Queen, president of the new space agency, honorary lieutenant of the rebel army…
— I don't have any of those titles, you just invented them.
— Still, just to tell your story, you'd need two lives worth of interviews.
— Well, they'll have to wait. I'm not going to work again anytime soon.
— Are we going on holiday?
— Haha! If you want. But I'm thinking something more on the long term. I'd like to visit the Saiyan lands. Maybe become an ambassador, create new structures. Have direct and honest links with Saiyans.
— Wow! Pretty big projects! But before you get yourself eaten by those Saiyans, think short term and use your privileges to get the best possible vacation for yourself, your best friend and her new boyfriend, huh?
Chiin-Lee smiled, leaving the silence as the only answer.
When Abricota, who ate slower than her, finished her pastry, she gave the signal: she had politely waited but there were limits… Her friend understood and she took out two more pastries.
Tchin took a mouthful worthy of a Saiyan and gestured towards the television. The 3D screen turned on.
— The Saiyan territory is wild and much larger than ours… It's wonderful to visit, you know.
Pictures of plains showed, followed by a luxurious forest.
— Tchin, they don't even have toilets.
— This here is the jungle at the equator, 3e meridian. All the colours are natural! And there's a Saiyan tribe that can't fly, but can swim for several minutes without breathing.
— At least, these ones wash themselves.
— This is the sky of the north of the South. Winter it's snowy and in summer, Sawtooth Dinomoles exit hibernation and go looking for food. Often, it ends up being a lost Saiyan who died during the winter freeze.
— You've got an "important" icon blinking in bright red, at the bottom, there.
— I highly doubt it's a third Millennial Saiyan. With their negotiations with the rest of the universe and their debates and endless changes, anything must be more important for them. You see, this is exactly why I want to quit. Who gives a damn what will be the terms of trade deals with aliens! Look, here's a valley I saw a few days ago. Saiyans hunt here because there's huge animals… Brie, don't open it!
Her friend had already done the hand gestures and the icon grew. It wasn't a message, just a notification, someone had pinged as important on a surveillance camera in Saiyan territory. Tchin was about to "click" on the close action, when her brain did a double take.
A camera in Saiyan territory, important? Now?
She opened it.
It was Hanasia's home village, well, its relocation. It was a live feed.
She was there. The Saiyan Queen, talking, eating, happily in her village.
She was alive.
It was impossible, but she was alive.
— She's alive!!
Tchin jumped up screaming as she said the sentence. She repeated it, even louder.
Brie didn't recognize Hanasia, because all Saiyans looked alike. But she had guessed the camera hadn't shown a random person. She raised her eyes towards her friend, who was bordering on hysteria.
Chiin-Lee was crying.
She threw herself on the couch into a massive hug with her friend who was pressed into the couch under the weight. Brie heard her smothered voice repeat: "She's alive…"
— But how? She managed to finally ask with what little air she still had in her lungs.
Tchin got up and released her.
— I'm going to ask her! She exclaimed, her eyes glistening and bright.
She turned towards the screen, made a series of quick movements and chained dozens of command words.
Brie understood that she wasn't going to ask her through a radio device or something else, she was busy ordering a ship! And it had already been validated! She wasn't wrong, her friend really was able to get the best holidays if she wanted…
— Tchiiiiiin… Abricota implored, but it was too late, her friend had already left the living room.
Brie got up and followed her to the next room over. An opened suitcase had been thrown in the middle and, without much thought or choice, Tchin sent several clothes flying into it. Then other paraphernalia, communicators, hygiene products, medications, defense and survival gear. To Brie's astonishment, Tchin had the last three in her room. What did the weapons serve her for on a daily basis? And even the rest! Was she preparing a zombie apocalypse?
— You're leaving already?!
— No, in eight minutes!
— Buuuuuut!… But it's wrong! I… I'm sure it's not authorized to go over there!
— I'll smooth it out, I've got contacts!
— Come on! You need, uh, a visa! And… and vaccines! And tick-repellent!
Tchien showed that she had her gear, before throwing it into the suitcase. It was a piece of equipment on which was literally written "tick-repellent".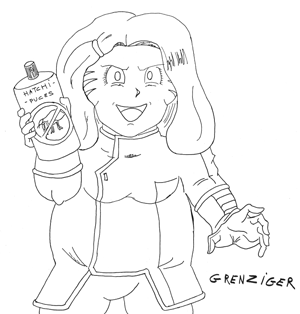 — I was only joking! Well… half-so.
The suitcase closed itself and started floating as it followed Tchin like a little dog. Well, on Plant, they say like a little Gzbruitty. Abricota threw herself at the door and blocked its opening with her body, something easy for any Tsuful. She spoke quickly:
— Tchin Tchin, my dear Tchin, don't you think you're acting a little too promptly because of a double emotional shock and that it deserves a little more reflection before leaving like that and… (gasp!) and you need to simmer down before you… (gasp). Uh, that's it really.
Tchin her Tchin answered with a big smile. Sweat beaded on Brie's brow, she didn't know if her friend had passed the stage a pure madness, she seemed happy and sure of herself. She also noticed she hadn't only packed her suitcase. She has also equipped on her right side a lethal weapon, surely not something sold in regular commerce.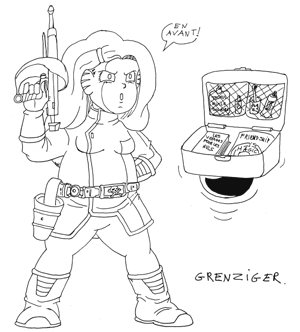 — Coming with me? She asked with sparkling eyes.
Brie shuddered in pain and surprise as sweat turned cold and her stomach churned at the mere thought of walking on Saiyan ground.
A slight buzzing outside indicated the ordered ship had arrived and was already stationing just outside the house. Terrified, Brie turned her head towards the exterior she couldn't see from here, the walls and windows being still violet.
Tchin took her hand.
— Ready for the adventure of your life?
— I… can't… I have… work tomorrow…
— You'll find another one when you get back! Every company would kill to have the incredible Abricota Prunus Armeniaca Rosidae Plantae near their coffee machine! The manager of meeting reorganisation. The queen of gossip over eight office floors. The expert of variety interruptions! Honorary syndicate lieutenant for the creation of the eighth obligatory morning break! University champion of the hundred meter dash (in only 58 seconds, if you please)! The teller of absolute world truth! The best friend of the universe!
The ship started and after a few minutes reached the sea, after which it accelerated towards the next continent. From the large front window-panes, very quickly all you could see was water in all directions. In the cockpit, popular music was banging on the speakers, covering the happy horrible singing of Tchin who was gleefully singing along. And on the improvised road trip, Brie was shaking terribly, wondering each instant why she was there.