DB

Multiverse
Hanasia, Queen of the Saiyans
Written by Salagir
Adapted by Caihlem, TheOverlyMadHatter, hiace50 and Adamantine
This story takes place on the Saiyans planet, 1000 years ago, way before they are the population killer who put fear in the whole galaxy, in the era of King Vegeta...
If you ever wondered how these so powerful people lived as a community, if you want to know what was the fate of Millennium Warriors before Broly, if the adventures of a frantic and emotional fighter in a world of bullies tempt you, enter the world of Hanasia's saga.
No release system is defined.

Part 1 :
1
2
3
Part 2 :
4
5
6
7
8
9
10
11
12
13
14
15
16
17
Part 3 :
18
19
20
21
22
23
24
25
26
27
28
29
30
31
32
33
34
35
36
37
38
39
40
41
42
43
44
45
Part 4 :
46
47
48
49
50
51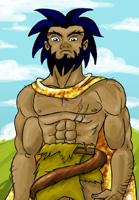 Part 1, Chapter 1.
Introduction
Hello beloved readers. In this fiction, we'll unveil the mysteries of the legend of the Super Saiyan.
This legend ties with the one of the Legendary Sayan. Why such a mix? There are many possibilities... And here is one of them.
This fanfiction was written by Salagir and is compatible with Dragon Ball Multiverse and almost every displayed universes. The universes where this story didn't take place are the following: 1st , 2nd , 5th and 10th.
The present version that you're about to read had been modified and re-illustrated since its first publication on my personal website. I hope I've removed every boring or confusing parts.
Nota: I didn't take into account the addiction from the Toei or the DB dictionary about the Tsufuls and the Saiyans' past. According to those, Saiyans would have used an old starship and would have come on the planet Plant only recently.
In this fanfiction, it's explained that those two races have evolved together on Plant.
This version is 'canon' DBM (otherwise, I'd not be posting it here anyway).
That's all I wanted to say. You can go on and read the actual story! :)