DB

Multiverse
Hanasia, Queen of the Saiyans
Written by Salagir
Adapted by Caihlem, TheOverlyMadHatter, hiace50 and Adamantine
This story takes place on the Saiyans planet, 1000 years ago, way before they are the population killer who put fear in the whole galaxy, in the era of King Vegeta...
If you ever wondered how these so powerful people lived as a community, if you want to know what was the fate of Millennium Warriors before Broly, if the adventures of a frantic and emotional fighter in a world of bullies tempt you, enter the world of Hanasia's saga.
No release system is defined.

Part 1 :
1
2
3
Part 2 :
4
5
6
7
8
9
10
11
12
13
14
15
16
17
Part 3 :
18
19
20
21
22
23
24
25
26
27
28
29
30
31
32
33
34
35
36
37
38
39
40
41
42
43
44
45
Part 4 :
46
47
48
49
50
51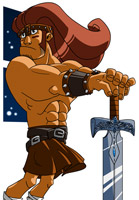 Part 3, Chapter 29.
A Tsuful Tale: Tokashitema and the Lonesome Ogre
Tokashitema and his twelve companions had gotten themselves lost. They had sailed the seas for seven days and not the slightest bit of land in sight. The stars were clouded, and the winds unresponsive. In the foggy night, their boat crashed against the rocks. They'd come across an island. And, igniting torches and walking in a single file line, they marched into the depths on this unknown island.
They were quick to inspect the piece of land. It was comprised only of an enormous rock that rose like a small peaking mountain. On one of its sides, a great opening gave way to a cavern that dug into the ground. Tokashitema and his companions wondered whether they should venture into it before the ground began to shake. Heavy stomps could be heard, approaching closer and closer. Reaching the cavern's entrance from the inside was a gargantuan creature, nine times the size of Tokashitema. He happily ran to them.
"Finally", he cried out "finally, I have some company on my island! Come in, come in, little ones! You're my guests here!" Tokashitema and his friends looked at each other. While they would've preferred fleeing, they would have nowhere to go, so they followed their gigantic host to the end of the cave, which was entirely furnished by the giant. There was carpet, which tickled the short Tsuful's knees, a large bed, perfectly made, and shelves with thousands of marvelous and ordinary objects, only a lot bigger than they were used to seeing them.
"Take a seat wherever you'd like", offered the giant. The Tsufuls briefly glanced at the only chair that towered above them, then sat at the edge of it. "Oh, I am terribly sorry, but I don't have any food to offer. But I have plenty to drink!" He then opened a proportionally matching cabinet and grabbed several bottles containing liquids of every color imaginable. He set them on the table and opened a drawer to take a few thimbles out to give to his guests and fill them, not without much of it being poured to the side.
"I'm all alone here," the giant seemed to shout, "I am glad to finally have company! Let us chat and drink together!" And that they did. Tokashitema talked about his country, and the giant about forgotten legends. Once night fell, the giant grabbed a few of his smaller tissues and rags so that his guests could make beds out of them. But before he blew the candles away, he assumed a troubled expression.
"It's been over a thousand years since I've had anything to eat", he said. "I'll be able to contain myself for tonight, but starting tomorrow, I'll eat one of you every following day." The group was collectively flabbergasted by this declaration, and the youngest of them wet his tissue. "Good night, now," he finished before blowing the candles. The next morning, the giant, who turned out to be an ogre, grabbed one of Tokashitema's companions and ate him alive. Everyone wished to flee, but the shambled boat would take weeks of nonstop work to fully repair.
As they cried the loss of their friend, the ogre wasn't too keen on wasting his day away. "Let's play a game! I'll carve a small die for you to roll. Let's kill time together!" Tokashitema wasn't thrilled with the idea. "We will not play your games! You killed and ate one of our own!" "I had to," said the ogre. "I'm too hungry and you're my only source of nutrition. I know it's pretty inconvenient, but for the time being, let's live in the enjoyable moment! I never have guests, and it is great to have you all here with me." Tokashitema's answer: "Well if our company is that great to you, then you shouldn't eat us."
While the group was gauging the damage taken to their boat, the ogre looked from afar, upset. His eyes were filled with sadness. He kicked the ground with his four legs and began to sulk. Tokashitema went to him and said that they would keep him company if he didn't eat them. "I'll try!" enthusiastically replied the ogre. They played with their dice and did charades. That night, in spite of their reservations, they slept in the ogre's den to keep out of the rain. The next day, as some of the sailors worked on fixing the boat, the others played with the ogre. And he didn't eat any of them.
But the following day, in the middle of a game of wordplay, the ogre couldn't contain himself, and he nabbed the youngest of the group for a meal. Everyone was appalled, to which the ogre apologized, but that didn't change anything. Since nobody wanted to play with him anymore, he grumbled. "If you don't play with me, I'll completely destroy your boat, and you will never be able to leave this place." Only Tokashitema agreed to keep the ogre company while the remaining ten worked their hardest on fixing the ship while avoiding any interaction with the giant.
"I'm doing my best to contain myself," said the ogre to Tokashitema. But three days later, he ate another member of the crew. Then another, two days after that. Each time, the ogre would eat anyone but Tokashitema, because he alone kept him company. A few weeks later, only the ogre and Tokashitema remained on the island. Seeing the ship being far from ever getting repaired, the last of his group knew he was going to die shortly, and no longer worked on the boat.
In the ensuing days, however, the ogre and Tokashitema continued to converse, without one eating the other. More than a week later, Tokashitema was surprised at this development. "I'm keeping myself from doing it," said the ogre, "I'm keeping myself from eating you because with you dead, I'll be alone again." And he kept at it. For days, which turned into weeks, then months. The two had become friends, against all odds. And time went by without Tokashitema realizing it, until one day, the ogre looked at the sky and said: "It's been a year since you got here."
"A year, really? So I think you probably could have kept yourself from eating my companions for this long too, right?" The ogre stared at the sea without answering. Then he said: "It isn't easy to decide between two clashing desires. Before there was only you left, I could eat, but if I do now, I will definitely be alone again." "So this is how it is," replied Tokashitema. "You're selfish. If you ended up alone, it's only because you don't take others into account. I know that a thousand years could pass and you still wouldn't eat me, but if another crew were to shipwreck here, I would see its members get eaten one after the other."
Following those words, Tokashitema threw himself into the sea. The ogre tried to save him, but salvaged only his corpse. Mad with sorrow, he was alone once again. Even so, he was resolved to not eating him, and buried the Tsuful. And as another millennia rolled by, he often paid respect to his friend's grave, famished.