DB

Multiverse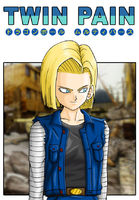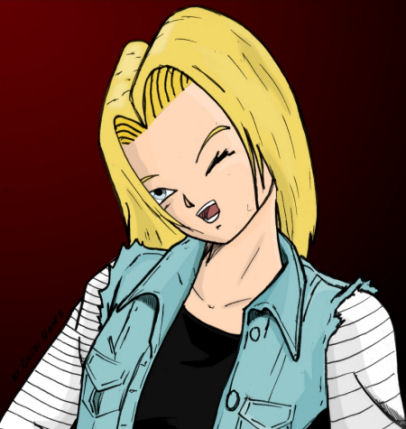 Gulp...!
Yamcha swallowed his saliva but it had some trouble getting through the lump in his throat. It was the maniac brother flying down to meet him! Such a good idea Yamcha! You just have won the jackpot! He was going to play the protective brother part! Well, maybe with some humour...
"Er... You're very nice, 17... and most likely very cute in your own way, but... you know, I don't bat for the other team... if you see what I mean..."
Damn, damn, damn. It certainly didn't seem to calm him... at all!
A crackling later, the cyborg was nose to nose with the playboy transfixed by angst or hypnotised by the so clear eyes of his opponent.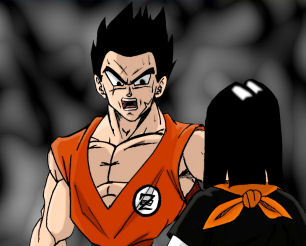 Suddenly, the former desert bandit found himself bending forward because of an incredible punch, punctuated by 17's voice.
"First of all, my sister is not a whore!"
The entire torso of the fighter is then violently pushed back by a merciless upward knee.
"Second, 'nice' is not a way to describe me..."
A terrific circular kick completed the rough hiding and brutally threw Yamcha on the ground.
"Third, I'm not cute!"
Partially sunk in the soil, and even though he was badly hurt, Yamcha was not ready to lose his sense of humor. After all, that was all he had left. Plus, it was not that inefficient: he was still alive, wasn't he? He muttered, he voice faint and shaking:
"You don't have to bust a gut... I got it loud and clear... ouch!"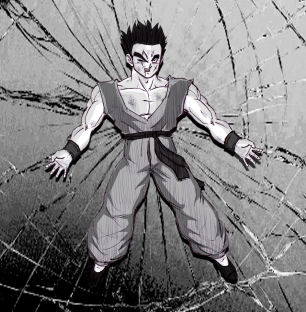 From above the little clearing which had become an improvised ring for their fight, Krilin had been watching his friend being beaten up by the steel boy and he hadn't been able to do anything. In the folly of his blind rage, he had totally forgotten him... The return to reality had been harsh! His mate obviously had just come within a hair's breadth of dying, just because of him!
He looked with surprise, as if he hadn't noticed that she was here. 18 had placidly watched the scene by his side, as if she was a lifelong friend. She quietly smiled at him, muttering in his direction:
"My brother is a bit jealous." And then, she winked at him, a wink of complicity.
Krilin felt like he was in cloud cuckoo land!
Had he missed something?
17 was already flying back towards them.
"Where were we already?"
He too looked at Krilin with a broad smile on his face.
"I hope you still are real mad, otherwise it's going to be... wicked!"
Better and better... Now he too was making jokes, and bad ones! A glimpse at the ground reassured him a bit about Yamcha's health: he was getting up, slowly, but getting up anyway.
Well, those two crazy guys seemed to be in a good mood, so why not try and take advantage of it to snatch some more time, some more hope, some extra second of life.
"Don't worry about it... I can be wicked!" he retorted, by way of challenge.
"Tsk, tsk, tsk..." 17 looked sad.
He pointedly looked at the still stunned fighter down bellow.
"That's too weak, we have to make him go angry again."
Krilin's heart beat once again in his chest just as a mournful battle drum as he faced the devilish cruelty that was taunting him.