DB

Multiverse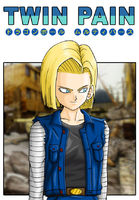 Krilin had come back in front of the little group using that same process that he had used before. As he had understood that he was creating a diversion, Yamcha had slowly moved too. But contrary to his friend, he had moved away from the group, carefully placing himself on the other side of the new comers.
The peaceful little glade began then to look like the board of a strategy game, a game where the players themselves were pawns. Pawns that were trying to think of the best tactic for the slaughter game that was smouldering.
Krilin took also a part in the surprising play, a trivial conversation about the colors of their fighting outfits, but he was thinking fast. He too moved away from Gyumao and Chi-Chi. All his senses were on the alert. He tried to not lose sight of the two so dangerous interlocutors, but as they're standing at both side of the glade, it was rather difficult not to do it.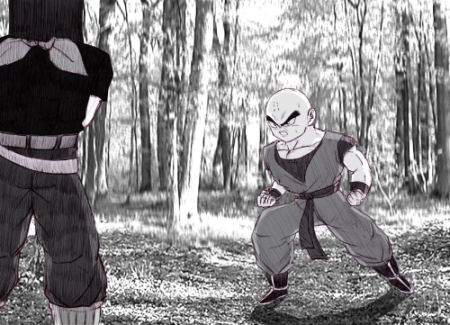 He moved, keeping a fighting stance as much as he could. He had to be ready to act in the split of a second! He looked at Yamcha... He wished so much to have mastered this telepathic technique so that they could agree on a common and efficient plan.
The two fighters' looks met. He's a bit surprised, but especially very relieved, to read a mute agreement into Yamcha's eyes. His old friend seemed to have drawn the same conclusion than he had!
Well, after all, it was logical. Unfortunately it wasn't the best plan, but it was the only way for them to survive: for him and Yamcha, there would be no resurrection. If they were to die, they'd join Tien and Goku in the limbo of the underworld.
Kamisama was right: their behaviour had been more than stupid. They didn't regret anything though. He'd never have been able to see Gohan's innocent eyes to tell him that he had shamefully let his mother be slaughtered while he was away. He also owed it to Goku, his long-time friend. How many lives did he owe to him already?
Krilin gave a start. It wasn't really the right moment to daydream, especially considering that the tone of the conversation was clearly changing! Damn...
The stuck-up girl was starting to lose patience. How irritating she was, speaking of her clothes...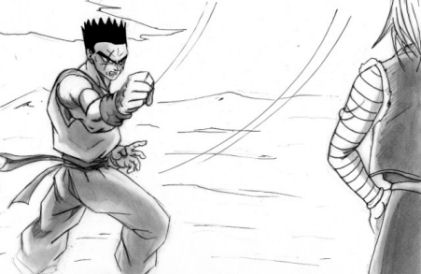 How long still? He didn't know, but most likely way too much... Quick, he had to find another topic, to postpone the moment when the fight would start, a fight whose outcome unfortunately was too clear.
A move caught his eyes.
It was Gyumao. In a surhuman effort and with difficulty, he got his huge body to sit up and, wincing from the pain, the giant managed to clumsily get up. Once he was standing up, even though bending because of a sharp pain, he went forwards, some clumsy paces, so that Chi-Chi's petite figure, Chi-Chi who was still sitting on the soft moss, was now completely covered by his enormous shadow.
The last pawn was in place. He too had felt that the rhythm of the game was about to change.
Krilin frowned: 17, that irritating man, was making fun of the pain that was killing the great Gyumao. Of course!
What did that can know about pain?
Krilin changed his mind as he saw 18's feminine body on the other side. Maybe did they know more than anyone about pain. According to Bulma, that crazy Dr Gero would have built them from the body of two actual twins. That was so barbaric!
It was now with a sudden and intense pity that the small fighter starred at the pretty young woman. All things considered, they too were victims here. That was so sad! But maybe was there an unexpected solution to their problem, the key to the end of their killing spree.
The small man decided to give it a try. After all, they had nothing to lose so, even if it didn't work, it'd have allowed them to live a bit longer... Now it was the right moment to show how smart he could be.
"I wonder what you miss the most."
The unexpected question surprised the two cyborgs. They looked at him with misunderstanding in their eyes. 17 was the first to react.
"What are you talking about, you squirt?"
Krilin smiled a bit. It worked! They have bitten. Now he had to play it well.
"Well, yes.... The Dr Gero had given you so much power, made you invincible, insensitive to pain, maybe even immortal... But you surely miss some part of this lost humanity, don't you?"
The two young people looked at each other with eyes open wide in surprise.
18 blushed a bit as her brother slowly lowered his head, partially hidding his face behing his black hair.
… They were perturbed!