DB

Multiverse

Grraa!!!!

Puterea lui este imensa

Chiar si dupa hibernare!

Broly's special powers
This comment will describe "Broly the Legendary Saiyanjin"'s powers, as they are in DBM. This is NOT canon, this is NOT official, NOT based on Toei or anything.

- Every 1000 years, one Saiyan is born as "Legendary".
- This Saiyan is very very strong.
- This Saiyan loves violence, and is inhabited by rage.
- This Saiyan can turn into SSJ easily.
- This Saiyan got a special transformation named "LSSJ".
- In LSSJ, he got white eyes, huge muscles and green aura. He is totally blinded with rage and seeks only violence.
- In LSSJ, this Saiyan turns indestructible: attacks just don't hurt him. He can be pushed away, but not harmed.
- In LSSJ, the power of this Saiyan grows constantly.
- When turned into LSSJ, this Saiyan won't get back to normal except in case a great shock.
- When turned into LSSJ, the lifetime of the Saiyan drops dramatically. But this weakness keeps getting less present on each generation.

Legendary History
(this comes from my fanfic "Hanasia" that is compatible with DBM and DB)

3000 years ago : the first Legendary Saiyan is born, and dies a few minutes after achieving LSSJ.

2000 years ago : the Legendary Saiyan Brasca is born. When he gets LSSJ, he destroys a few parts of the land and dies a few hours later.

1000 years ago : the Legendary Saiyan Romanesco is born. He achieve LSSJ and fights the first Super Saiyan, Hanasia. He is sent into the sun by the cumulated power of many people. He dies there.

A few years ago : the Legendary Saiyan Broly is born. He is stopped in his progression for many years because of a special device.

In most of the universes : Broly is never born due to no Saiyans, or never meet Gokû and stays in the power of the device.

In universes 16, 17, 18, 20 and some others : When he meets Son Gokû, he breaks the device and gets LSSJ. He is then pushed into space by the cumulated power of several people. Years later, Broly finds his way back to earth for a second encounter.

In universe 20 : he survives it and kill everyone, then everything. Some years later he finishes in an icecube.
In others : he is pushed away by the power of several people into the sun, and dies there.

By the way... Gokû's crying didn't made Broly crazy. Broly was crazy from the beginning. He just focused the craziness and rage on the very annoying crying. I think he also escaped his device because Gokû is in traumatic memories, but also is the strongest warrior he ever seen.

2016-02-06
Urmatorul capitol si minicomic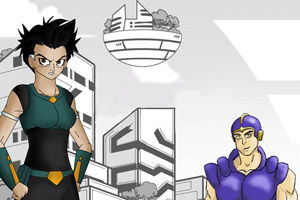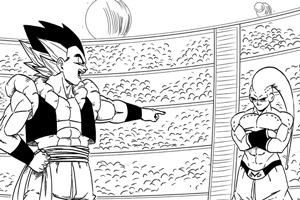 Duminica 14, incepe un mini comic de 3 pagin care va va raspunde la toate intrebarile legate de tipii din universul 19.
Apoi, capitolul 51, de
Asura
!
Dupa aceasta, va urma continuarea si finalul aventurilor din universul 13 pe Helior!

Comentariile se incarca...