DB

Multiverse

Euge, quae peritia!

Artem ad mafuba obsistendum quidem novi, sed inter-rumpere nolui tantam occasionem gloriae...

Vere inclusus sum... sed non totus. Parvas partes mei posui ubique in arena!

Forsitan mafuba cuique facere possis?

I wanted to write a note to the readers of DBM for this second and last flashback chapter.

For at the same time share my passion for DBM with you and also to raise a bit the curtain on what happens behind the scene for a cartoonist.

First of all, know that if I drew these two chapters it was foremost because I wanted to read the continuation of DBM!
Yes, just like you, I am a reader eager to know what happens next!
Yet, talented artists like Gogeta Jr and Asura are rare and their time is limited.

Thus if I wanted to read the continuation of DBM, the harsh reality was that I had to contribute myself!

A chapter of 25 pages, (yes, the cover does also count), is at least 25x6 = 150 working hours for the artist. Before the drawings begin, there are one or several brainstorming sessions with Salagir, then a draft story-board to polish, then the composition of pages on Photoshop with the dialogues, then the drawings, then the inking on Photoshop, then the effects such as the shades of grey, then the improvements based on the comments of Salagir, then the improvements based on the Team's comments!

These 150 hours being taken on my spare time, it calls for the sacrifice of the same amount of free time over numerous weeks.
I accept all the critics, but those who would write that we don´t take our task seriously, or that the reader is not respected, would be very wrong.
In short, to write a chapter of DBM demands a huge passion and a huge investment from everyone involved.

Drawing the first chapter was a source of great pleasure for me, and Salagir suggested that I also close the circle by drawing the second and final flashback chapter.

The DB style not being my natural style, the first chapter posed as a real challenge for me.
However, I did my best to put the maximum effort into every panel and never refused drawing a background or avoided any part of the work.
I even insisted on drawing the maximum of characters on the last page.

For this second chapter, I attempted to produce a more homogeneous result, and more in the style of DBZ than original DB.
You will also note that these two chapters are dense. A lot of things happen in them, story-wise.
I requested that myself, Salagir agreed, and I am very thankful to him for that :)

I hope that you will take as much pleasure reading these upcoming pages as I had drawing them!

Thrill with us, write your forecasts, write us your feedbacks!
I will read all the messages and shall answer your questions on the last page of the chapter. Don't hesitate, especially if you have questions relating to the drawings.
If enough of you show an interest in this part of the work, I could even release a "making of" from my files :)

I´ll use this opportunity to thank the numerous members of the DBM Team whose work makes these pages accessible to the rest of the world, be it via the translations, the conventions, moderation, and so on.

PS: Salagir is apparently enjoying working with me as much as I am with him, so he proposed that I write yet another chapter. I accepted.
I cannot reveal much, except for the fact that it is the chapter anticipated by the great majority of you and that the result will be a treat to read!

Cordially

Taopaipai.

2019-06-10
Narratio prima pergitur!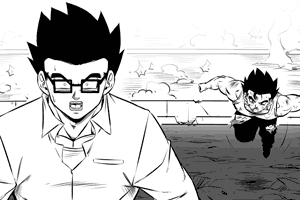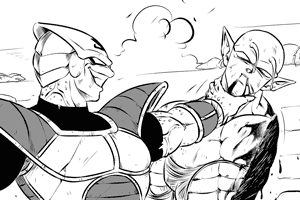 A. d. XIII Kal Iulias, die Mercurii, capitulum LXX e DBM incipit.
Etiam pictum ab Asura, a Veguito adiuvato!

Impositio iudicia...