DB

Multiverse
Japan Expo July 2009
This as been a long long way, but here is the Japan Expo report !
This was much bigger. More than six time the visitors of the Chibi Japan Expo.
This real Japan Expo is the biggest European convention about japanimation, manga and video games !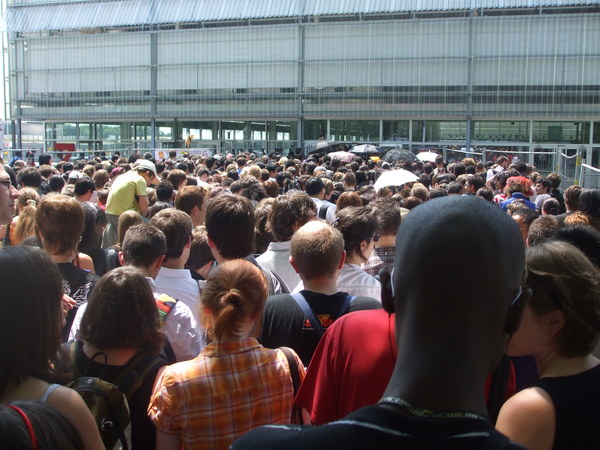 Most of the team was there. We had to, THE Japan Expo is a gigantic event!
A first view of the team!

From left to right: RMR, whose fanfiction on lunionsacre.net described the fight Cell-Dabra, and who helps on the scenario. Then Faye, our beloved colorist you all already know :)

Salagir in the middle, the brain of this whole thing ; Thibarik who makes our appareances to these conventions a reality and help on diverse things ; and then, Gogeta Jr, the great magicien :)

Another team shot, without Gogeta Jr, but with two other members: Rachid (with cap), who made the logo (see his other works with Salagir on www.salachid.com), and Attila, one of the spanish translators.

Some times, it was very quiet... We almost hear the snoring of Thibarik and RMR... :-/

But when the crowd comes... it's sometimes a mess !
But always fun

Unnoticeable, still essential...

You're on air!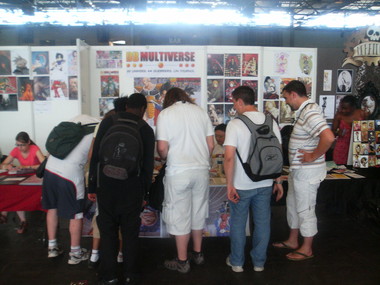 A stand... small but strong ;)
| | |
| --- | --- |
| I was about to take a photo of Coola, when he attacked me ! | Thanksfully, super-Vegeta came and saved my ass, we're fine :p |
| Videl also came to say hello :) | Folks, a spy infiltrated the team of DBM, can you find him? |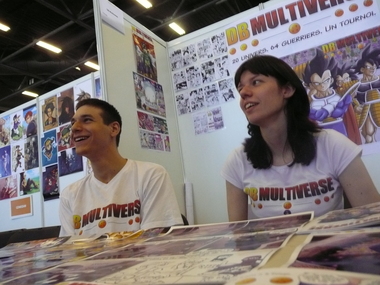 - So my friend goes to the movies to watch DBE...
- Ah ah ah ah !
- Wait, my joke isn't over yet!
- Ah ah ah ah !
Here it is for the photographs, folks!
Now let's see some pictures made by Gogeta jr and Salagir that the readers who came at the Japan Expo scanned and sent us!
We made more than 110 pictures, most of them by Gogeta Jr, but also some on the theme of Geek's World by Salagir.
The character that was asked for the most was Vegete (also first at the Chibi) with 17 pictures, then Gokû, 13 pictures. On third base, Tom from GsW, 9 pictures, then Ray from GsW, Trunks, Gohan (teen), Vegetto...
Bonus by Mazzu: some others cosplay and other products at the Japan Expo. It's a selectio of things we like, so DBZ and Zelda (it's Salagir who forced us for Zelda).
Warning! We inserted a traumatizing image in this lot!
And the best for the end... the video!
For those who don't like streaming, download the video in divX with all the subtitles.
Thanks to David, Edge, Charles Henri, Filo-Man, momoaliz and Ryujii for the pictures and fanarts they sent, and to Risbo for the video editing.
Thanks to you, reader... We are dragged by your support!