Japan Expo July 2009
This as been a long long way, but here is the Japan Expo report !
This was much bigger. More than six time the visitors of the Chibi Japan Expo.
This real Japan Expo is the biggest European convention about japanimation, manga and video games !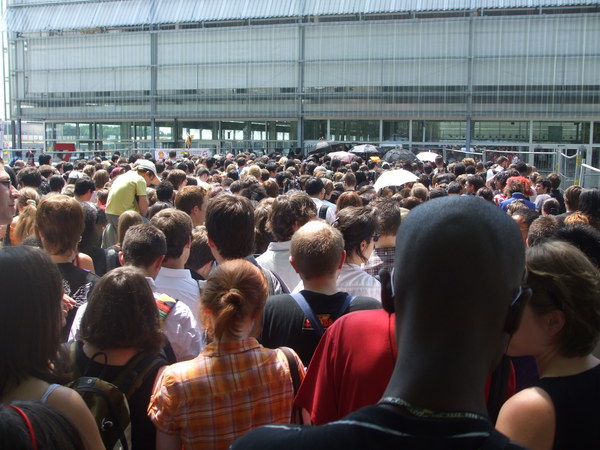 Most of the team was there. We had to, THE Japan Expo is a gigantic event!
A first view of the team!

From left to right: RMR, whose fanfiction on lunionsacre.net described the fight Cell-Dabra, and who helps on the scenario. Then Faye, our beloved colorist you all already know :)

Salagir in the middle, the brain of this whole thing ; Thibarik who makes our appareances to these conventions a reality and help on diverse things ; and then, Gogeta Jr, the great magicien :)

Another team shot, without Gogeta Jr, but with two other members: Rachid (with cap), who made the logo (see his other works with Salagir on www.salachid.com), and Attila, one of the spanish translators.

Some times, it was very quiet... We almost hear the snoring of Thibarik and RMR... :-/

But when the crowd comes... it's sometimes a mess !
But always fun

Unnoticeable, still essential...

You're on air!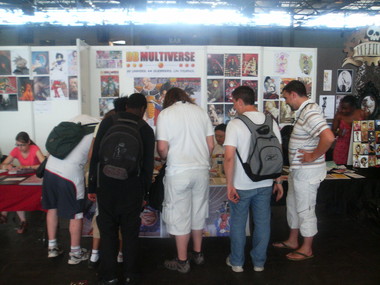 A stand... small but strong ;)
| | |
| --- | --- |
| I was about to take a photo of Coola, when he attacked me ! | Thanksfully, super-Vegeta came and saved my ass, we're fine :p |
| Videl also came to say hello :) | Folks, a spy infiltrated the team of DBM, can you find him? |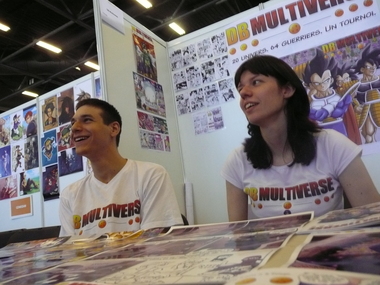 - So my friend goes to the movies to watch DBE...
- Ah ah ah ah !
- Wait, my joke isn't over yet!
- Ah ah ah ah !
Flash and Javascript are needed in order to play video.

A French online-TV channel, well known by french otakus and geeks, named NoLife, came in the amator section of the Japan Expo for us, thanks guys!

Website of Dr Lakav with NoLife's documentary in full version [fr]

"- DBGT sucks guys, it sucks real real hard!!"
"-Err... can we stay on-topic please?"
Salagir, always too honest for his own good!
Here it is for the photographs, folks!
Now let's see some pictures made by Gogeta jr and Salagir that the readers who came at the Japan Expo scanned and sent us!
We made more than 110 pictures, most of them by Gogeta Jr, but also some on the theme of Geek's World by Salagir.
The character that was asked for the most was Vegete (also first at the Chibi) with 17 pictures, then Gokû, 13 pictures. On third base, Tom from GsW, 9 pictures, then Ray from GsW, Trunks, Gohan (teen), Vegetto...
Bonus by Mazzu: some others cosplay and other products at the Japan Expo. It's a selectio of things we like, so DBZ and Zelda (it's Salagir who forced us for Zelda).
Warning! We inserted a traumatizing image in this lot!
And the best for the end... the video!
Flash and Javascript are needed in order to play video.
For those who don't like streaming, download the video in divX with all the subtitles.
By the way, about videos, Thibarik, who also make AMVs, took part to an internationnal contest of animated musicals videos at this Japan Expo 2009. You can download his clip here. Don't hesitate to tell what you think of it, his DBZ AMV was ranked 4th on 186 :)
Thanks to David, Edge, Charles Henri, Filo-Man, momoaliz and Ryujii for the pictures and fanarts they sent, and to Risbo for the video editing.
Thanks to you, reader... We are dragged by your support!
Your comments about this page :
2009-08-01 12:30:02
Bobby
Nice hwen the next one i mint come and where
2009-08-01 20:12:09
Lolek
Wow, that looks really nice ;)
do you sell chapters of DBM in the Internet??
2009-08-01 20:26:53
Vegetto Jr.
HAHAHAHA!!! The last mini comic was hilarious! xD Did that really happen?
2009-08-02 01:36:53
Tyxomm
Wish i was there...
Nice comic at the end :D
2009-08-02 01:40:01
unknown-92
Hehehe!This is sooooo funny,really!
2009-08-02 04:57:34
Omega XII: Self Proclaimed Supreme Overlord Of The Menacing Empire
I wish I had went.

=[
2009-08-02 10:08:27
BakaOtaku
This minicomic is classic for anyone who has every been annoyed by someone posting "first" and nothing else.
By the way I knew this had been a issue for some on the English boards but has their been discussion about people calling out first on the French boards as well? I would be interested in knowing if people do this in every language or if it is less common for people from some places to call out first.
2009-08-02 22:49:09
BakaOtaku
> Salagir : People calling out first
Sigh I guess its just a inevitable part of online comics having response boards.
Either that or you set a bad example with your "Test, this is the first comment !" post on page one :)
P.S. Have you ever noticed that your "Test, this is the first comment !" post is actually dated after several other posts on latter pages, namely ones by you, Nappa, and myself on the English boards and on the French boards you, Tom', dracke, and Komikusu :P
2009-08-05 14:16:13
O.o
I went to expo [the one in london] it was fun :P took kind of long to get in but it was a blast lol xD
2009-08-10 16:56:04
a name
looking at this, im judging that this is probally the best moment of your life
2009-08-12 22:06:54
Son-Goku77
So what, this Fan-manga still rocks.

I hope to see more Salagir, you and Gogeta Jr. are awesome! I hope you never stop!
2009-08-16 23:00:00
Dante
guys,u all rule for doing this,i wish you had YOUTUBE ACCOUNT i would 5/5+fav+subscribe all of your videos :) i also draw dragonballz,and color them with ink,but u RULE guys :) cheers,wish i could help u :)
2009-09-23 03:11:38
subhan
yay the VID is here!
2009-09-25 04:08:27
sebas-arg
so, what did say Akira Toriyama about the comic??
2009-10-03 21:44:46
thegreatradin
UN!
lol. Surely they put more than 2 letters?
2009-10-08 22:07:59
Evox
mmh... i see... Benders. I don't think THEY're japanese....
2010-03-15 21:56:46
jesse
you guys semm pretty kewl
2010-05-12 22:03:19
Kyle Kytle
Please email me
mkylte@yahoo.com
I have some dragon ball create can you like it will it cool. I have new fusion and new fighters.
2010-06-30 00:47:12
DailyDose
Get enough money and go to Comiket! Show Japan your work! And most importantly - print out one copy and give it to Toriyama as a present.