Give me the same thing, only double the weight!
I have a universe to save, now. I need to train.
Ok.
Hu... no, something else, please!
I miss young Gohan...
Here is another.
Hu! No, thanks...
This one?
Bleh!
This?
What!?
She doesn't like your suggestions.
Sure she does! Try a bikini, now!
I'll kill you!!
2012-04-21
Posebno poglavlje Bibidi, prije 5 milijuna godina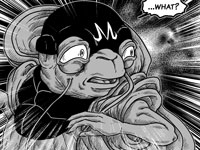 Slijedeći petak, novi specijal !
Nacrtao ga je JohanDark.
Pročitajte njegov strip Korijeni Arkhama
(
pogledajte video
)
Njegovi ostali stripovi
Poglavlje će biti kratko i ostat ćemo kod 3 updatea na tjedan.
Tvoji komentari o ovoj stranici:

Učitavanje komentara...