Fanart creation by Shad17
Author: Shad17
From country: FR
Posted on: 2016-04-10
Et si DBGT était l'un des univers présent dans DBM ?
La réaction entre homologue ;)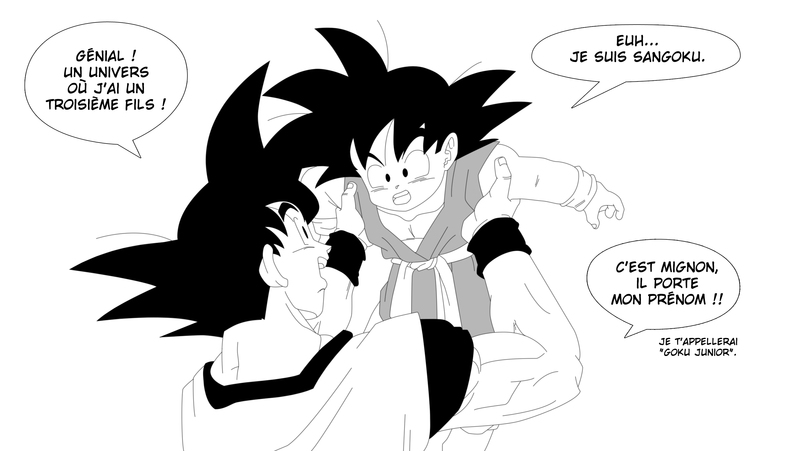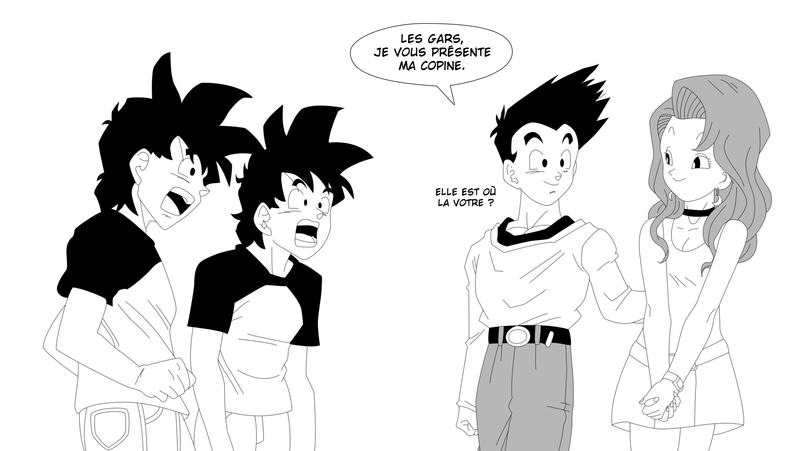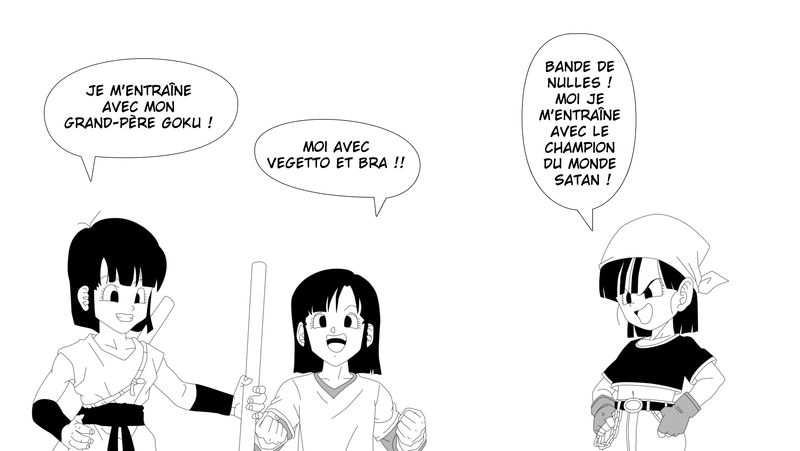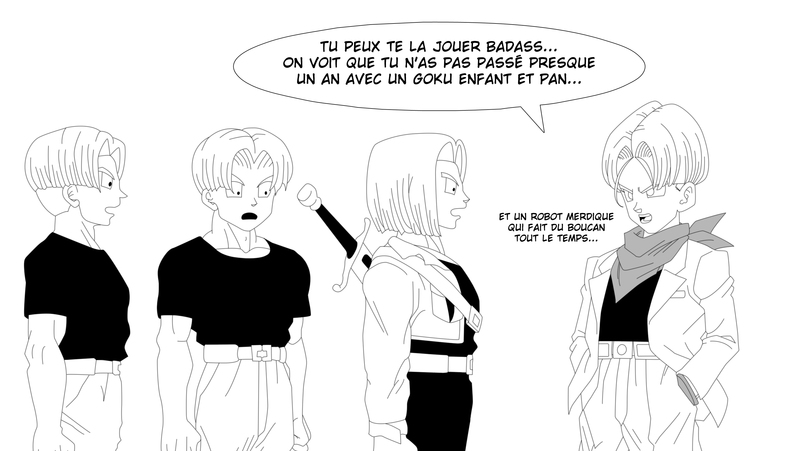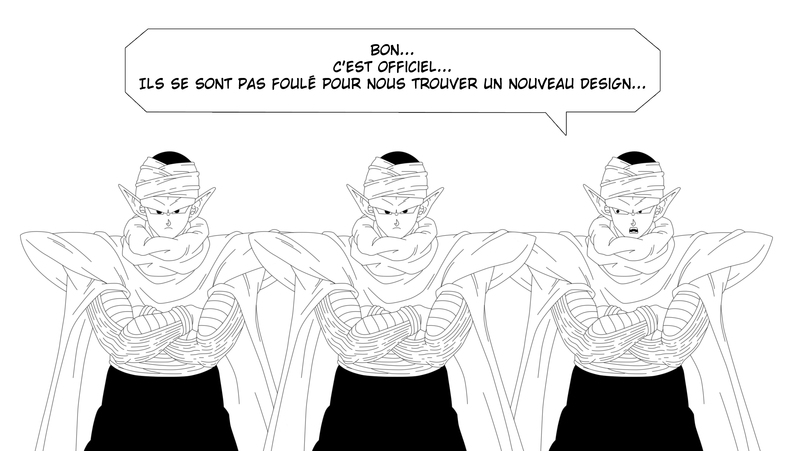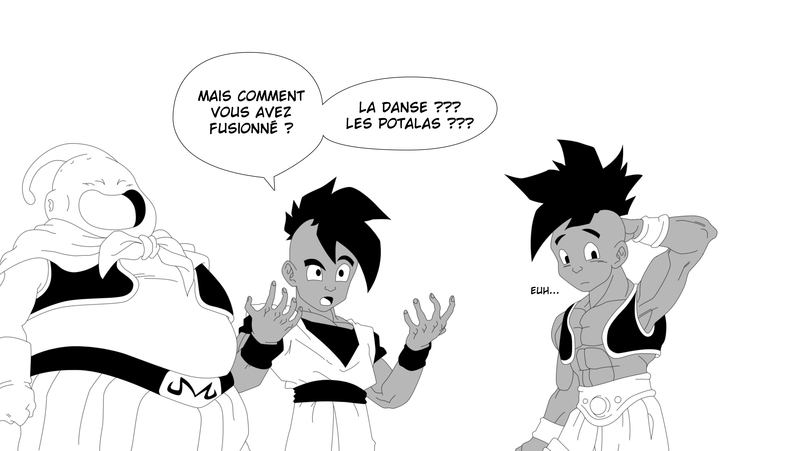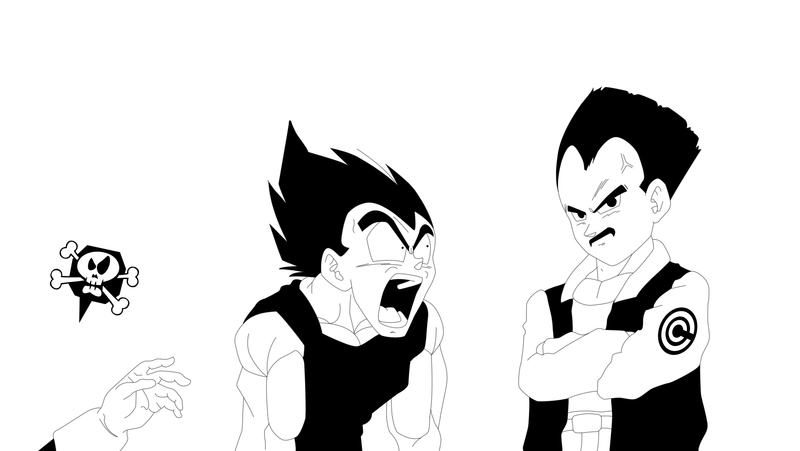 Your comments about this page :
2016-09-18 16:47:43
Metus
xDDDD Omg, I laughed so hard when hitting the last panel.
2016-09-21 16:28:05
SSGNEO
I love this. Can this be translated into English

2016-11-20 06:03:30
Anonymous Vegeta fanboy
That moment when I see the last panel with vegeta jaw dropped and sayian prince (because I forgot the universe number that is when stuff hit the floor I was laughing so hard and That is why I love dbm and if you don't like it hey it's your choice weather you like it or not
2017-01-04 00:41:23
Johnthenewlssgssj4
lol guess shit
2017-07-02 03:23:10
Canou
Just in case, not perfect.

1St Case :
Goku (18) : Awesome ! I have a third son !
Goku (dbgt) : Euh... I AM Son Goku.
Goku (18) : So cute, he has my name. 'I'll call you Goku Junior'

2nd Case :
Goten (dbgt) : Guys, let me introduce you to my girlfirend. 'Where is yours ?'

3rd Case :
Pan (u18) : I train with my grandfather Goku !
Pan (u16) : I with Vegetto and Bra !!
Pan (dbgt) : You suckers ! I train with the world champion Satan !

4th Case :
Trunks (dbgt) : YOU can look badass... You didn't spend almost a whole year with Kid Goku and Pan. 'And a shitty robot that does noise all the time.'

5th Case :
Piccolo (dbgt) : Allright... Its official... They didn't care to find a new design for us.

6th Case :
Uub (u18) : But how did you fuse ? Dance ? Potalas ?

7th Case :
No Comment.